Bellmont Cabinets in Seattle, WA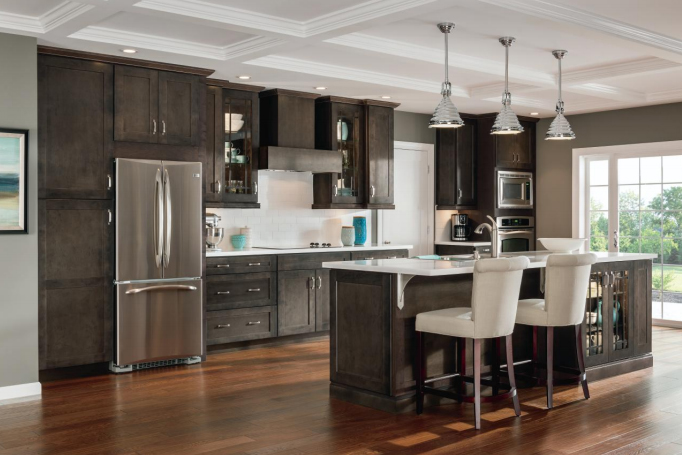 When you are looking to increase the resale value, functionality, and attractiveness of your home all at once, call us for new cabinets. Few interior upgrades offer more advantages than a full kitchen or bathroom remodel, and no remodel is complete without our stunning cabinetry. Local customers choose us when they are doing their remodeling, because we are a proud provider of Bellmont cabinets in Seattle, WA. These are some of the region's most well-loved products, and when you see them, you'll know why.
At our showroom, you have the creative freedom to choose from a large selection of cabinetry from Bellmont's 1900 and 1600 series. With so many options, you are bound to find the right style for your home. Should you ever need help deciding, feel free to ask. Our experts would love to offer their advice.
Take Full Advantage of Your Kitchen's Space
Let's face it, there never seems to be enough space in the kitchen. If yours is starting to feel too cramped because of minimal storage space, we're here to help you and your family to get the relief you need. Our stylish and practical kitchen cabinets are manufactured to make the best use of space and give you more of it. Visit our showroom and let our experts guide you in the exact cabinetry for your needs.
Through the use of interior shelving and creative build-ins, such as an integrated Lazy Susan inside your corner cabinets, you are able to revolutionize your kitchen. No longer do you have to choose between form and function because Bellmont cabinets seamlessly combines both inside of their superior products.
Kitchens aren't the only part of your home that could be improved with an upgrade. We're glad to give you Belmont cabinets for bathrooms too. They're the perfect place to put your towels, grooming products, hair dryers, toilet paper, and other essentials. A little extra space makes a lot of difference when you and your family are getting ready in the morning. Reach out to us, and we'll make your bathroom your best room.
What Are Semi-Custom Cabinets?
These are much like stock, or regular, cabinets, except they come with extra choices for personalizing the little details. Although you'll receive the standard cabinetry size, you'll be able to change a few things about them. These could include the drawers and doors, the depth, and other aspects. Semi-custom is a nice middle ground between stock and custom because you get the enjoyment of putting your own spin on a design—even if it's just a small touch—without the expense of fully custom models. They allow for alterations you can't get from stock cabinets.
The design flexibility you receive from semi-custom cabinets translates to the rest of your kitchen. If you need a place for an appliance that wouldn't fit inside a stock unit, a semi-custom can fulfill that need. At the same time, you're spared making the enormous number of decisions you would have to think over if you were going the fully custom route. Cosmetic personalization is much simpler and more affordable.
The Ones To Trust for All of Your Installation Needs
Sometimes you can't find what you want in a box. While Bellmont offers a wide range of cabinetry to choose from, every kitchen is unique, and some require unique solutions to match. That is why we offer custom cabinets for our customers. Our experts are able to work with you to make sure you get the perfect design for your home. Whether you want fully or semi-custom cabinets, we are here for you and welcome you at our showroom anytime.
As for installation, it is often easy to tell the difference between a professional and amateur job. Your new cabinets are an investment in your home that will bring you years of joy and added resale value as well, so you should get the best service you can for them. Our cabinet installation experts are able to do the job right the first time, so you don't have to worry about a thing. Visit us today and let our team handle everything for you. No job is too big or small for us.
Bellmont Cabinet Co. has been a trusted family-owned manufacturer for more than 30 years, and they're recognized as one of the finest in the country. Clients can choose from several series of cabinets, finishes, colors, textures, and stains. Each is designed to be eco-friendly and meet high-efficiency standards. Their quality products combined with our superior cabinet installation skills make for an ideal mix in which you and your home receive the best.
Contact us to schedule a cabinet consultation. We place them in houses throughout Seattle, Bellevue, Bothell, Edmonds, and Issaquah, Washington, and the surrounding communities.