Durable Waterproof Flooring in Seattle, WA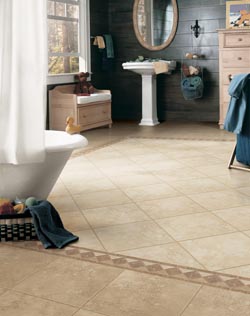 When the challenges of daily living present themselves, your flooring shouldn't suffer as a result. You deserve a surface underfoot that's capable of standing strong against life's messes. When you fit your space with waterproof flooring in Seattle, WA, you'll always rebound quickly from life's little mishaps.

There's nothing quite like the charming look and feel of new flooring in your home. However, trying to keep your space free from stains and water damage can feel like a never-ending battle when you've got playful children and adventurous pets constantly on the move. Fit your space with a flooring solution that's sure to stand up against messes, moisture, and whatever else lies in store when you visit our fully stocked showroom.

At Flooring America, you'll find an impressive array of high-performance flooring selections designed with active households in mind. From waterproof carpet to waterproof vinyl flooring, ambitious shoppers will find no shortage of suitable choices for their space, no matter what the size or shape of the room. Turn to our fully stocked showroom to find a selection that meets your every aesthetic and performance need.
Enjoy Our Impressive Selection of Waterproof Brands
At our flooring store, you'll find an abundance of high-performance waterproof vinyl flooring, carpet, and many other choices built with active households in mind. We are proud to offer a unique selection of fashion-forward flooring selections that are as attractive as they are practical. The water-resistant properties of our carpet, vinyl, and waterproof luxury vinyl planks help to repel moisture and dispel strong household odors from smoke and pets. All the while, these high-performance waterproof flooring choices lend breathtaking style to any room in which they are featured.

When you visit our flooring store, you can take advantage of a variety of fashion-forward waterproof flooring options from some of the industry's leading names. Featuring products from Tigressá® H2O, these waterproof carpet selections offer the warmth, beauty, and softness you would expect from carpeting, along with excellent moisture and stain resistance. In addition, when you choose our waterproof luxury vinyl planks from Downs® H2O, you are sure to receive the ideal combination of durability, easy care, and water resistance in a single flooring choice. Simply share your aspirations with our keen specialists and we'll work with you to find the perfect choice for your home.
Trust our Team for an Exceptional Installation
After you're completely satisfied with your hard or soft surface flooring selection, you might be concerned about its installation. Homeowners need not worry about having to find a capable team of external contractors to install their new flooring solution when they turn to our full-service team. When you put your needs in our capable hands, you are sure to receive a comprehensive waterproof flooring installation.

We make it our mission to provide our clients with total peace of mind when it comes to their home investment. No matter if we're renovating your bathroom, kitchen, or another moisture-prone area, you can rest assured that our high-performance selections are sure to stand strong for years to come. Schedule an estimate with our skilled technicians and we'll ensure that your new flooring solution is installed perfectly.

Contact our specialists for more information regarding our premium waterproof flooring selections. We proudly serve customers in Seattle, Bellevue, Bothell, Edmonds, and Issaquah, Washington.