High-Quality Flooring in Seattle, WA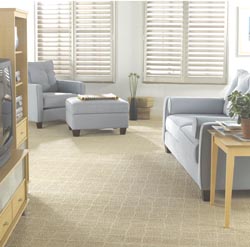 Updating your floors is one of the best ways to bring new life to your existing interior design. With the right materials, you can add a truly unique flair to just about any space in your home. But often, finding the right material for your needs is tricky. That's where we come in. Our wide-ranging selection of flooring in Seattle, WA, offers something for everyone.
At Flooring America of Seattle, we pride ourselves on offering an array of flooring options ranging from hardwood and carpet to tile and vinyl. A family-owned business for over 25 years, our showroom combines the warmth and friendliness of a locally run shop and the expansive capabilities of a flooring emporium to bring you the best of both worlds. And with our staff of experienced flooring experts, finding the perfect solution for your home is a breeze.
Your Go-To Flooring Store
No matter what your project entails, our team is happy to help you every step of the way, from selecting your materials to maintaining the beauty of your new floors. If you're not sure where to begin, don't sweat it; our staff will gladly walk you through the process one step at a time. And thanks to our expansive selection, we have competitively priced options for every budget. Whether you're looking for plush carpet with a cozy vibe or the sophisticated look and feel of hardwood, we have you covered.
Installing Your New Floors
When you choose Flooring America of Seattle, you get a full-scale flooring team that handles everything from initial material selection to flooring installation. Our local team is a group of dedicated professionals who not only provide high-end flooring materials and in-home design assistance, but also install your new floors for you. For added assurance, we make sure to conduct a thorough walkthrough before leaving your property. With our team on your side, you never have to stress about handling the installation process on your own.
Ensuring Quality Flooring Maintenance
Once your new floor is installed, you want its beauty and functionality to last for as long as possible. That's why, beyond helping you select and install your new floors, our team is happy to help you care for them in the best way possible. Drawing on years of hands-on experience, we've compiled a helpful guide of floor care tips and tricks designed to ensure proper care and maintenance for each and every client.
Contact us today to discuss your next flooring project. We proudly serve clients in Seattle, Bellevue, Bothell, Edmonds, and Issaquah, Washington, as well as the surrounding areas.