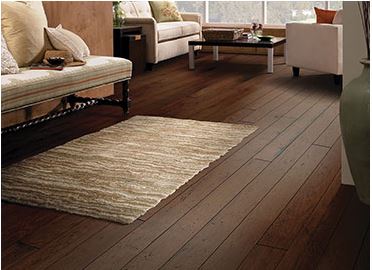 Are you looking for a surefire way to add an extra dimension to your interior design? If you've got hard-surface floors such as hardwood, tile, or laminate, an area rug is the perfect home addition. It just takes some inspiration to improve your existing décor by adding another layer to your indoor space. Unify every element of your room with our high-quality area rugs in Seattle, WA.
At Flooring America of Seattle, you'll find an impressive selection of premium flooring selections including our luxurious area rugs. From custom area rugs to rug pads, we feel that we've got something fit for shoppers of all tastes and preferences. With everything from traditional favorites to contemporary selections that blend with any décor, our showroom features something for every taste.
Hard-surfaces need rugs to soften the look and safeguard your hardwood, tile, or laminate flooring. An area rug serves as protection against damage from the legs of furniture, high-heeled shoes, toys, and unruly pets. They're also of great benefit if you frequently move furniture around your living space. In addition to their protective qualities, area rugs also offer a welcome layer of functional beauty to your space.
Complement Your Interior Design with Custom Area Rugs

Rugs are key design elements that afford you the opportunity to change up any interior space. A large, brilliantly colored area rug with a beautiful design can serve as an ideal focal point for an interior design scheme. Unite your indoor space by combining the colors of your area rug with the colors of your existing space.
Whether you're looking to create a unique conversation area that brings your indoor space together or you wish to soften your living space, we'll help you find creative, useful ways to use custom area rugs in your home. We're also capable of making rugs out of carpet remnants with our rug binding services. Whatever your design visions, we're committed to bringing them to reality any way that you see fit.
Rugs Made to Your Specifications

From making a design statement to protecting valuable underlying surfaces, our luxury area rugs are equally attractive and practical. We proudly feature a variety of custom rugs and rug pads. Our clients are free to make modifications to many key attributes such as crafting materials, color palettes, and sizing. This way, you're sure to receive the perfect rug for your home without breaking the bank.
Share your design aspirations with our dedicated specialists, and we'll walk you through the steps. Together, we can create the perfect flooring solution that's sure to fit your every aesthetic and functional need.
Contact our showroom to learn more about our luxurious area rugs. We proudly serve clients throughout Seattle, Bothell, Bellevue, Edmonds, and Issaquah, Washington, as well as the surrounding areas.