Laminate Flooring in Seattle, WA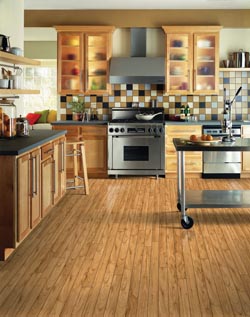 Choose versatile and stylish laminate floors for easy and convenient installation. With laminate flooring from our family-owned-and-operated store, you get style, performance, and value. Discover the delights of this adaptable surface, which comes as laminate wood flooring or laminate tile flooring. Modern manufacturing makes this flooring look just like the high-end styles of hardwood, natural stone, and ceramic tile flooring.
Those who love hardwood or tile, but prefer an alternative that is lower in cost and maintenance, can opt for laminates. Come into our flooring showroom to check out the fine selection of laminate styles we offer. Once you have made your selection, be sure to schedule our professional laminate flooring installation.


Select Laminate Wood Flooring for a Hardwood Look
Hardwood is one of the most desired flooring options, but it may not be the ideal flooring for your busy lifestyle. That is why laminate that resembles hardwood is so popular. With a choice from our impressive laminate wood flooring collections, you can have the glory of wood with all of its variations in color, grain, and gloss at a budget-friendly price.
Ask our design and sales professionals for help in picking out the perfect laminate for any room in your home. We provide our customers with free in-home design and estimating services to take the stress out of buying new floors. With our knowledgeable experts at your side, your shopping experience is as fun and enjoyable as it is supposed to be.


Is It Stone Tile or Is It Laminate Tile Flooring?
Stone or ceramic tile adds grandeur to any living space, but the cost might be more than you want to pay right now. The solution is laminate tile flooring. Select the laminate that looks like your favorite stone or tile and have our certified technicians install it in your home. The magic of laminate is that it gives you the look of high-end flooring at a lesser cost and with little maintenance required.


Multi-Layered Construction of Laminate Floors
The beauty and durability of laminate floor coverings comes right from the manufacturing plant. This flooring is designed to be beautiful, tough, and long-lasting. The secret is found in laminate's multi-layered construction.
On top is a clear layer of aluminum oxide that protects your flooring from stains and scratches. Next is a design layer, which contains a digital photo of a piece of hardwood, natural stone, or ceramic tile. This is why laminate looks so real. You actually are looking at a picture of the real thing. At the core, find high-density board for strength and stability. Underneath is a backing layer that guards against moisture.


Laminate Flooring Installation for Longevity
To protect against damage and ensure that your floors last a long time, we recommend professional installation. Our flooring technicians are specially trained in the proper methods of laminate installation. They remove and dispose of your old flooring and then clean and prepare the subfloor before installing the laminate. Doing this properly safeguards your floors from damage and extends their usable life.
Everyone in our family business works hard to make sure you are completely satisfied with your new laminate flooring. That is why we offer our Ultimate Guarantee. This is to let you know you can be confident in our products and services. When it comes to installation, we provide another guarantee for the lifetime of your flooring. If you have any trouble, let us know and we will fix it with no cost to you.

Call us today at <PHONE> to schedule an in-home design consultation for your new laminate flooring. We proudly service clients throughout Seattle, Bellevue, Bothell, Edmonds, and Issaquah, Washington, and the surrounding areas.