Laminate Flooring in Seattle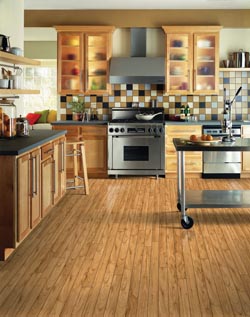 Give your home a fresh look by installing new flooring. At Flooring America of Seattle, you can find an extensive selection of brand-name flooring to meet your design preferences and lifestyle requirements. We are the go-to choice for laminate flooring in Seattle, Washington. This flooring type is made to mimic hardwood and tile, but at a lesser cost and less maintenance.
We invite you to step into our flooring showroom to select what we believe to be the best laminate flooring. Our trained and experienced design professionals are here to help you choose the brand, style, and color of laminate flooring that meets your needs.
The Hardwood Lookalike
Choosing a material that offers the look you desire with the longevity you demand is essential to the selection process. Solid hardwood is one of the most desired flooring options, but it may not be the ideal choice for a busy lifestyle or for spaces that are subject to a great deal of moisture.
In contrast, laminate wood flooring is so popular because it offers the timeless look of real hardwood without the maintenance. Not only is the longevity of laminate extraordinary, but so is its value. With a choice from our impressive laminate collections, you can have the glorious look of wood with all of its variations in color, grain, and gloss.
Is It Stone Tile or Is It Laminate Tile Flooring?
Stone and ceramic tile add grandeur to any living space. However, the cost of these materials might be more than you want to take on, especially if you're looking to renovate a large area. Laminate tile flooring replicates the highly desirable appearance of real stone flooring at a lesser cost. Select the floor that looks like your favorite stone or tile, and you'll receive a high-end look without enduring a high-end price.
Laying Your Choice Perfectly with Laminate Flooring Installation
Installing any flooring is a demanding job that requires skill and experience to perform accurately and efficiently. After you purchase from our showroom, we send an experienced team to deliver a flawless installation. You can expect nothing less than excellent results when you turn to our team. We'll leave your home with the stylish look you've always dreamed of. Our team will answer all of your questions, such as "how much does it cost to have laminate flooring installed?"
Contact us today for a diverse selection of laminate flooring. We proudly serve clients in Seattle, Bothell, Bellevue, Edmonds, and Issaquah, Washington, as well as the surrounding areas.