Find Waterproof Luxury Vinyl Flooring at Our Local Flooring Store
Beautify your home with new luxury vinyl flooring at Flooring America of Seattle. Updating your floors with vinyl is an efficient and affordable way to increase the appearance and value of your home. Flooring America of Seattle makes it our specialty to offer you endless choices in high-end flooring options. As your local flooring store, we truly care about each customer's long-lasting success. Our customer-oriented staff goes above and beyond to make your shopping experience pleasant by first providing you with a free consultation. During the consultation, we discuss your needs, lifestyle, preferences, and, most importantly, your budget. From there, we present you with a vast array of options and help you select resilient flooring that best suits your looks, performance, and price needs. Then, we can finish the job with our professional luxury vinyl flooring installations. Visit our Seattle, WA, showroom today to browse our selections and chat with our flooring specialists today!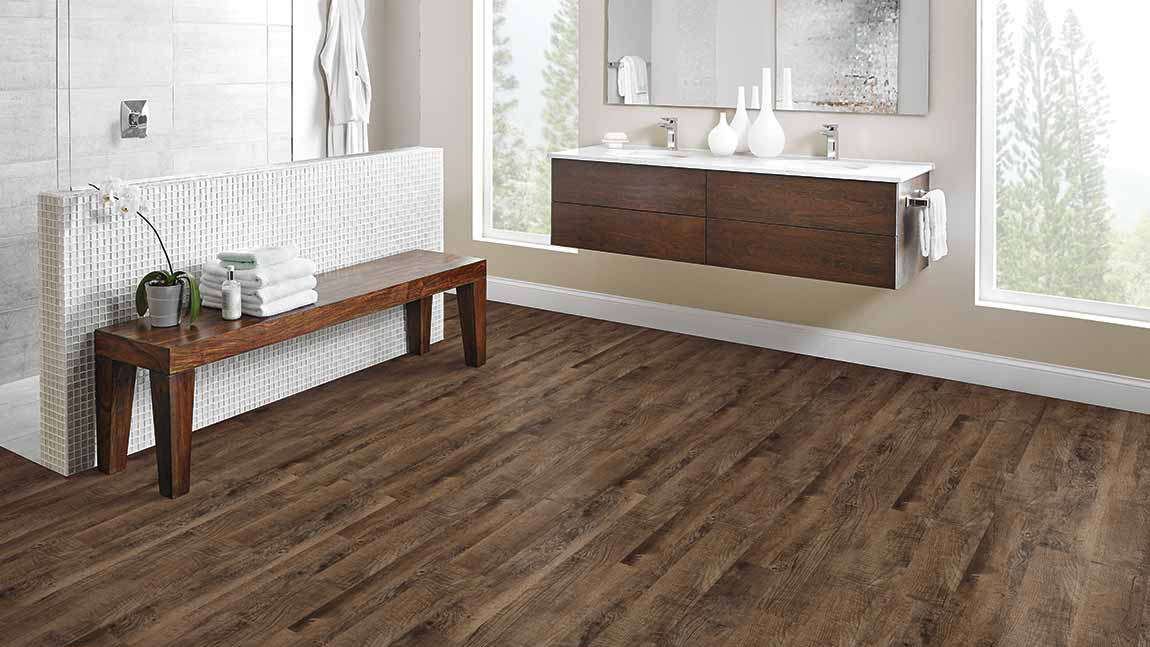 Types of Luxury Vinyl Flooring Available
Are you looking for the appearance of distressed wood? Perhaps you prefer the look and texture of travertine. There's a luxury vinyl floor tile that's perfect for your design ideas and lifestyle needs. Innovations in the industry have made it possible for manufacturers to closely resemble the appearance of other natural flooring materials. The process also gives the luxury vinyl floors the texture of these sought-after options, too. It's done so well that some well-trained eyes can't spot the difference. Learn more about the types of luxury vinyl flooring available at our local flooring store.
Luxury Vinyl Plank (LVP)
The most popular trend is luxury plank flooring that comes in planks and even has the grain, knots, and texture of authentic hardwood flooring. This offers you all the durability and waterproofing of laminate with the timeless elegance of solid wood flooring. More importantly, this type of LVP can be installed in any room of your home!
Luxury Vinyl Tile (LVT)
Thanks to advances in technology, flooring manufacturers have found many ways to improve vinyl tile, so this flooring is better than ever before. The latest technology strengthens your flooring so it stands up to heavy traffic and resists scratches, and embossing allows for a variety of patterns and styles. Whether you want the look of ceramic, porcelain, or natural stone tile flooring, find an affordable alternative with LVT.
Sheet Vinyl Flooring
Another fashionable selection is fiberglass-backed floating sheet vinyl. Today's vinyl provides a cushiony feeling underfoot that is especially pronounced with sheet vinyl. Your feet will thank you for it. Whichever option you choose, feel confident knowing that your new luxury vinyl floor tile will give your space the luxurious look you seek without the price. Stop in to see our extensive selection today.

Discover Why Luxury Vinyl Tile Is So Popular
If you want beautiful flooring in a wide selection of colors and styles that stands up to real-world wear and tear, choose luxury vinyl flooring. We carry exquisite luxury vinyl flooring brands including Kentwood, PVC-free Elandura & SonoEclipse, Marmoleum, and more. Learn all the benefits of choosing resilient flooring for your home flooring remodel:
Eco-friendly flooring material.

Easy to clean and maintain.

Long-lasting durability in high-traffic areas.

Available in many styles, textures, colors, shapes, & sizes.

Performs well in all areas of the home, including high-moisture environments.

Resists scratches, dents, stains, fading, water, and common daily mishaps.

Affordable options to meet your budget needs.
How to Care for Luxury Vinyl Floors
We know that our Seattle customers want floors that look great, but are also eco-friendly and require little effort to maintain. Luckily, luxury vinyl flooring boasts a protective wear layer that resists spills, staining, and scratches, so you never have to worry about damaging your floors. To keep your LVP or LVT clean, follow our best tips for luxury vinyl care:
Sweep and mop regularly.

Spot clean any spills with a damp cloth.

Occasionally wet mop for heavier messes.

Always ask a professional before using any harsh chemicals on your floors to avoid damage. Our specialists are here to answer all of your luxury vinyl care questions.
Professional Luxury Vinyl Flooring Installation
Many flooring retailers offer the design, shape, size, and style you want at unbeatable prices, but expect you to find your own installer. When you choose us for your flooring needs, you can enjoy the best of both worlds. Pick out your vinyl floors, and expect our experienced installers to be at your home on your schedule. We know that preparation is essential to long-lasting luxury vinyl floor installation, so we take our time to do it right. In addition to careful preparation, we go above and beyond to complete the installation as quickly as possible so you can enjoy your handsome vinyl floors sooner and for many years.
It is our practice to provide you with some of the highest quality vinyl floorings in America--in selection, price, and quality--with the outcome that you are 100% satisfied with our product and services. We make good on our promises that your floors last for years with our high-tech products and expert installation. Our Ultimate Confidence Guarantee allows you to contact us within 30 days of installation if you are unhappy with your new floors. We will gladly replace them with a similar model, free of charge!
Contact us to learn more about our luxury vinyl flooring options! We are proud to serve clients throughout Seattle, Bellevue, Bothell, Edmonds, Issaquah, Washington, and the surrounding areas.