Stunning Wood-Look Tile in Seattle, WA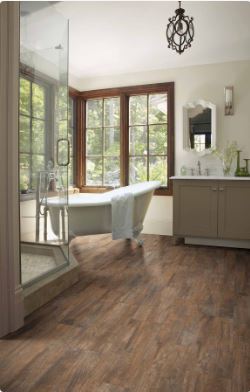 When you want the beauty and luxury appeal of wood floors, but not the long-term upkeep commitment and high upfront costs; choose the team at Flooring America Seattle. We help customers find the best options for their unique situations.
When it comes to getting the aesthetic of wood at a great price and with easier maintenance, we know exactly what to choose. Our showroom offers wood-look tile in Seattle, WA, to give homeowners the options they need to craft the right home appearance at the right price for their budgets.
With wood plank tile, you can achieve the striking elegance of hardwood floors with custom-crafted tiles that are:
Affordably Priced
Easy to Install & Maintain
A Breeze to Clean
Fast and Simple to Repair
Timeless Style with a Modern Sensibility
Among the many benefits of tile is its ability to embody sleek, cosmopolitan refinement while adapting to the style needs of almost any space. We work with tile because it gives our customers an effective balance of performance and value. Ceramic wood tile, in particular, offers superior ease of use and visual appeal without breaking the bank.
Our tiles can create the look of a brand-new wood floor, but they can also do so much more. With a vast array of grains, colors, and faux-wear options, you can establish the atmosphere you want for your space, even if it relies on:
Flawless Polish
Rustic Appeal
Climate-Specific Species
With our tile products, you gain the look of natural wood with the freedom and customizability of cool, comfortable tile. If you're unsure of the final result you want to achieve with your flooring project, the experts at our showroom can help you browse our selection and guide you to the perfect wood grain tile choice.
A Choice that Doesn't Come with Restrictions
Your home should reflect your personality and be the one place where you have complete comfort and control. Our team helps you achieve the exact look you want when you choose us to provide your tile. We help you choose from the vast array of choices in:
Color
Grain Style
Size
Pattern
Shape
Texture
With all the options available in our product collection, you're sure to find a tile option that fits your needs. Don't limit your design potential because of limited experience or selection. Get the ceramic or porcelain wood tile you want at the prices you deserve when you turn to our flooring professionals.

Contact us today to take advantage of the beauty and versatility of our tile options. We proudly serve Seattle, Washington, and the surrounding areas.